Crushing Equipment
Mobile Crushing Plant
Screening & Washing
Typical Craft

Contact Us

Tel:

+86-371-64966831

Fax:

+86-371-64628872

E-mail:

yifanseo@yfmac.com

Latest News
Inclined Vibrating Screen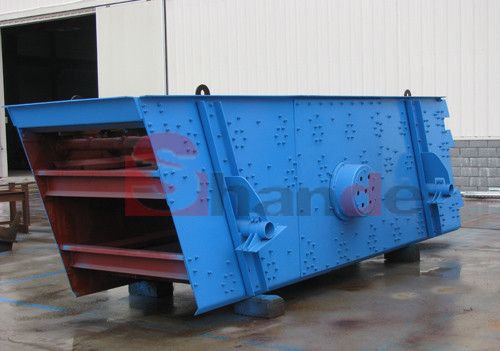 Inclined Vibrating Screen work in a rotundity trajectory, and is of many layers and high efficiency. The vibratory screen adopts the barrel type of eccentric shaft vibration exciter and eccentric block to adjust the swing. The screen is featured with the following characteristics, the screening line is long and specification of materials screened is various, and it is also of reliable structure, strong exciting force, high screening efficiency, low vibrating noise, long durability, convenient maintenance, safe operation, etc, and the vibratory screen is widely used for screening in wide range including mines, building material, transportation, energy sources, chemical industry, etc. YK Series Inclined Vibrating Screen is a high efficiency machine that absorbs Germany Technology. It is applied to coal dressing, ore dressing, building material, electric power, and chemical industries.
Features and Advantages:
[1] High vibrating force with unique eccentric structure. Adopt advanced construction, making the vibrating force powerful;
[2] The beam and case of the screen are connected with high strength bolts without welding;
[3] Simple structure, easy to repair;
[4] Adopt tire coupling and soft connection makes operation smooth;
[5] High efficiency, easy maintenance, sturdy and durable;
Usage and Maintenance:
Inclined Vibrating Screen should start when there is nothing on the screen surface, and should avoid starting the machine with materials, when the material running steady, then can feed. Stop feeding before stop the machine, and keep there is no material on the surface then stop the machine. Observe the operation of the machine when it is running. If there are abnormal movement or unusual sound, we should stop the machine and examine it, find the causes, and eliminate the troubles.
Main Technical Parameter:
| | | | | | | | | | |
| --- | --- | --- | --- | --- | --- | --- | --- | --- | --- |
| Model | Screen deck | Installation Slope | Deck Size | Vibrating Frequency | DoubleAmplitude(mm) | Capacity | Motor Power | Overall Dimensions | Weight |
| 2YK1224 | 2 | 15 | 2.88 | 970 | 6-8 | 20-120 | 5.5 | 2673×2382×2027 | 1750 |
| YK1235 | 1 | 15 | 4.2 | 970 | 6-8 | 20-150 | 5.5 | 3710×2464×1450 | 1729 |
| 2YK1235 | 2 | 15 | 4.2 | 970 | 6-8 | 20-150 | 7.5 | 3705×2393×2339 | 2476 |
| 3YK1235 | 3 | 15 | 4.2 | 970 | 6-8 | 20-150 | 7.5 | 3621×2521×2581 | 3158 |
| 4YK1235 | 4 | 15 | 4.2 | 970 | 6-8 | 22-150 | 11 | 3510×2521×2830 | 4160 |
| YK1545 | 1 | 17.5 | 6.75 | 970 | 6-8 | 22-150 | 11 | 4904×3044×2179 | 3319 |
| 2YK1545 | 2 | 17.5 | 6.75 | 970 | 6-8 | 22-150 | 15 | 5042×3090×3165 | 5308 |
| 3YK1545 | 3 | 17.5 | 6.75 | 970 | 6-8 | 20-150 | 15 | 4972×3090×3395 | 5915 |
| 4YK1545 | 4 | 17.5 | 6.75 | 970 | 6-8 | 20-150 | 18.5 | 4915×3155×3804 | 7260 |
| YK1548 | 1 | 17.5 | 7.2 | 970 | 6-8 | 20-150 | 11 | 5190×3044×2186 | 3319 |
| 2YK1548 | 2 | 17.5 | 7.2 | 970 | 6-8 | 22-150 | 15 | 5265×3140×3208 | 5284 |
| 3YK1548 | 3 | 17.5 | 7.2 | 970 | 6-8 | 22-150 | 15 | 5200×3090×3440 | 6186 |
| 4YK1548 | 4 | 17.5 | 7.2 | 970 | 6-8 | 22-150 | 18.5 | 5200×3155×3849 | 7284 |
| YK1860 | 1 | 20 | 10.8 | 970 | 6-8 | 32-350 | 15 | 6302×3365×2992 | 4651 |
| 2YK1860 | 2 | 20 | 10.8 | 970 | 6-8 | 32-350 | 18.5 | 6020×3455×3756 | 6195 |
| 3YK1860 | 3 | 20 | 10.8 | 970 | 6-8 | 32-350 | 18.5 | 6020×3455×4180 | 7613 |
| 4YK1860 | 4 | 20 | 10.8 | 970 | 6-8 | 32-350 | 22 | 5963×3505×4463 | 8650 |
| YK2160 | 1 | 20 | 12.6 | 970 | 6-8 | 66-720 | 18.5 | 6302×3730×2992 | 4917 |
| 2YK2160 | 2 | 20 | 12.6 | 970 | 6-8 | 66-720 | 22 | 5966×3958×3975 | 6856 |
| 3YK2160 | 3 | 20 | 12.6 | 970 | 6-8 | 66-720 | 30 | 5966×3958×4400 | 9112 |
| 4YK2160 | 4 | 20 | 12.6 | 970 | 6-8 | 66-720 | 30 | 5966×3958×4780 | 11405 |
| YK2460 | 1 | 20 | 14.4 | 970 | 6-8 | 75-750 | 18.5 | 6302×4155×2992 | 5243 |
| 2YK2460 | 2 | 20 | 14.4 | 970 | 6-8 | 75-750 | 30 | 6027×4308×3975 | 8503 |
| 3YK2460 | 3 | 20 | 14.4 | 970 | 6-8 | 75-750 | 30 | 6027×4308×4400 | 10411 |
| 4YK2460 | 4 | 20 | 14.4 | 970 | 6-8 | 75-750 | 30 | 5966×4308×4780 | 12068 |
| 2YK2475 | 2 | 20 | 18 | 970 | 6-8 | 120-900 | 30 | 7812×4308×4642 | 10709 |
| 3YK2475 | 3 | 20 | 18 | 970 | 6-8 | 120-900 | 37 | 7718×4393×5033 | 13400 |
| 4YK2475 | 4 | 20 | 18 | 970 | 6-8 | 120-900 | 45 | 7718×4494×5361 | 15500 |
| YK3060 | 1 | 20 | 18 | 970 | 6-8 | 200-900 | 30 | 6302×4943×3108 | 14052 |
| 2YK3060 | 2 | 20 | 18 | 970 | 6-8 | 200-900 | 37 | 6207×4943×3985 | 17185 |
| 3YK3060 | 3 | 20 | 18 | 970 | 6-8 | 200-900 | 45 | 6207×4943×4485 | 19200 |
| 4YK3060 | 4 | 20 | 18 | 970 | 6-8 | 200-900 | 45 | 6207×4943×4785 | 21080 |