Crushing Equipment
Mobile Crushing Plant
Screening & Washing
Typical Craft

Contact Us

Tel:

+86-371-64966831

Fax:

+86-371-64628872

E-mail:

yifanseo@yfmac.com

Latest News
About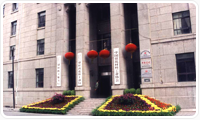 Shande Technology(Beijing)Co., Ltd. is the subsidiary of Shande Group. It devotes itself to research and produce machinery equipment, such as impact crusher ,Vertical Shaft Impact Crusher, hydraulic cone crusher, jaw crusher, mobile crushing plant etc. Shande Machinery has been well received by the customers with its rich technology, excellent quality and sincere service. Meanwhile, it will provide the professional pre-sale, sale and after-sale service for our customers. Since it was established, technical innovation had always been the most important for survival and development of the Group. For that, we stand on the current situation, and research a batch of new-type special equipment according to different customers and different features of solid waste, such as mobile crushing plant, concrete recycling equipment, sand collecting system, crawler mobile crusher and so on.
One of Shande's main research directions is the application of "mobile crushing and screening technology" during the process of "urban construction waste disposal". Around this direction, the Group researches all kinds of mobile construction waste disposal equipments which are used in different places. Otherwise, Shande Machinery has obtained several research achievements of construction waste disposal equipment and applied many own patents.
For a long time, Shande Machinery insists on gathering large numbers of talented people, and draws the advanced ideas. Thereby the company reaches a brand-new height on the aspects of team building and R&D ability, which is in the leading level at home and abroad. It establishes the solid foundation for the long-term development of Shande Group.
Shande Machinery always guarantees the technical advantages, and insists on taking construction waste recycling and neighboring environment beautification as the development direction, thus forms its unique core competence. Nowadays, with the strong promotion of scientific research, Shande Machinery has produced and installed many construction waste disposal projects for our customers.